eCommerce site search best practices with examples
How many times have you walked into a store and asked a salesperson or a shopkeeper to give you something? Almost always, right? What do you do when you shop online then?
Using the eCommerce search bar on an online store is like asking a shopkeeper in a brick and mortar store. And just like some shopkeepers seem to know what you want, while some continue to show you items that you don't like, a search bar can also show relevant or irrelevant results. How do you ensure relevant results?
A great eCommerce site search experience is a driving force to boost engagement, conversion, and revenues. But this is not always the case when done incorrectly.
In a time when leading retailers push site search as a primary call-to-action on the home page, others have hidden their search bar or made it almost invisible due to a bad experience that negatively impacted engagement, conversion, and revenues.
So what factors help deliver great search experience? Here are some of the basic requirements you need to consider
The Site Search Journey
1. Design & Placement of the Search Box/Bar
A well-defined search bar is critical to get your visitors to want to search. You may have invested in the website design, but without a clear call to action for search, none of the intended actions from your visitors will ever materialize. There is enough data to prove that the search is a low-cost, high revenue driver.
A large and clearly visibile serach box acts as an instant call to action. Leading retailers like Target, Walmart etc have a large search box which can be identofied easily once visitors land on the site.
2. Popular/Trending  & Pinned Searches:
Popular/Trending 
A great start to the site search experience is to load the popular searches that were conducted in period X for that retailer when a visitor clicks on the search bar. This is scheduled to load before the visitor starts to type something.
'Popular/trending searches' are a good engagement feature as they are indicative of what searches have been trending in the site.
Pinned  Searches
By analyzing the insights of your eCommerce store, you can pin certain search terms in the search bar. What if it is Halloween tomorrow, but Halloween related search terms are not showing up yet? Pinned searches come to your rescue.
Pinned Searches can be used to improve product discovery and to promote a category of products too.
3. Recent Searches
Recent Searches' is a simple feature that eases search experience for online visitors. Most visitors take more than one visit to complete their purchase. Search queries are repeated by visitors to continue finding what they seek to buy.
Recent searches feature saves visitors time and lowers friction as all they need to do is click on what was recently searched vs. having to type the same query each time they visit. This feature does not require analytics and is actively used in all leading eCommerce sites as it saves visitors a lot of effort, especially on mobile devices.
4. Search Suggestions & Auto-Complete
Search suggestions are expected to be predictive (fill as you type), to help visitors quickly find the relevant suggestion, without having to type the complete search query.
These suggestions can be of two kinds:
Text Suggestions (suggestions for different products or categories)
Visual Suggestions  (photos of products)
5. Data-Driven Search Results
The result of the Site Search journey is to find relevant, trending, or personally relevant results to help visitors quickly find what they seek. Incorrect search results are blasphemy in the world of search experience.
How often do you visit pages 2, 3, or 4 on search results in Google? Probably never. This, coupled with the fact that mobile devices show 2 or 4 products per page scroll, makes it important for the retailer to show what is relevant & trending to each user right on top.
6. Filters
Now that you have your visitors engaged with the right search results, you need to help them drill down. Most of them do not have time to keep scrolling, and if they do, there is a high probability they will get distracted and stop the process. YOU LOSE A POTENTIAL CUSTOMER.
Make sure you have the right filters or facets for the search results displayed. Showing all available filters for all search queries is amateur and makes your business look very unprofessional. E.g., Having "Shoe type" shown as a filter when 'Dresses" have been selected from the filters.
Make sure tags displayed within the filters are dynamic, to only show tags that have minimum results. You do not want your visitors running into dead ends; they will leave your site and shop elsewhere.
7. Sort Options
Decide upfront what the various sort options are required for your visitor. Having too many options might confuse them, and too little gives them minimal options to choose from. Some of the options are sort by:
Trending
Price – Ascending
Price – Descending
Discount – Descending
New Arrivals
Popularity
Best Sellers
Most Viewed
Highest rated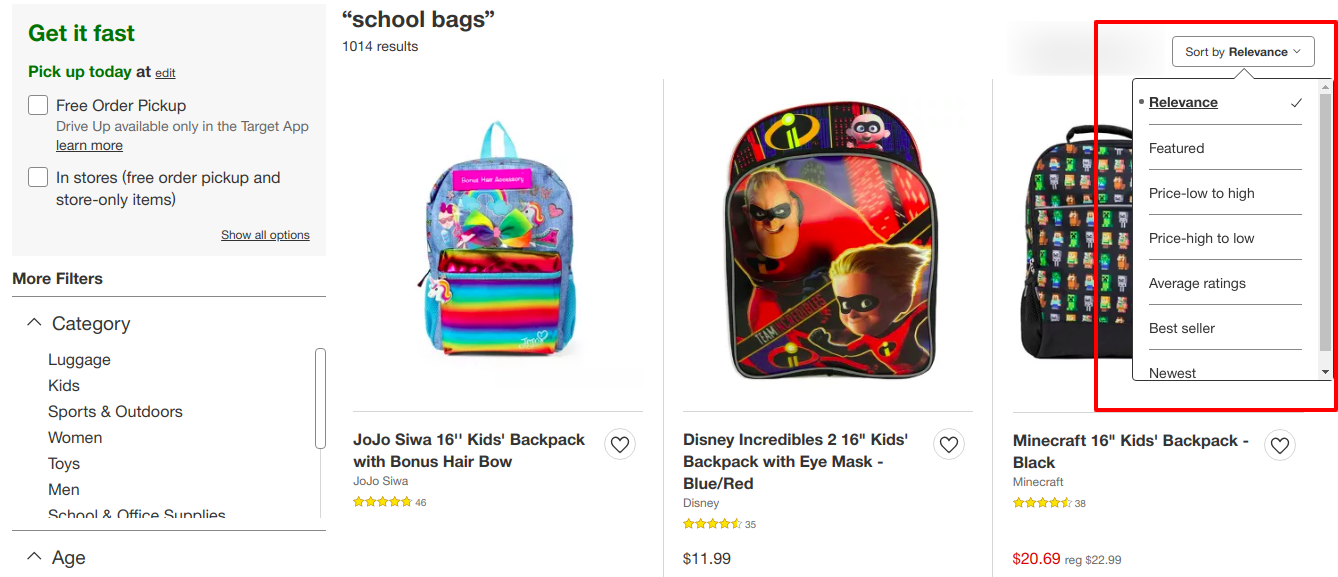 8. Search Synonyms
Having search synonyms is one of the best eCommerce search practices. When a visitor enters a term in the search engine but gets no results, the bounce rate of the website will increase.
Search synonyms show results for queries which are referred by different names (rabbit vs. bunny). This improves the Click-Through-Ratio (CTR) and makes your search smarter.
9. Query Stemming
Query stemming enables the search function to look at the root form of the word for more results. For example, when cheap is searched, it also looks at cheaper, cheapest, or when wool is searched, the results will show woolen, too.
A user can look at a wider range of products, which leads to high product discoverability.
10. Spell Check
Most search tools on eCommerce websites are not tailored for spelling errors. If a person doesn't know the correct spelling or erroneously spells it, they might see "no results." 3% of users cannot find products due to spelling errors! This can cause a $3m loss in revenue.
Amazon follows auto-correct in its search bar to allow its customers to find what they are looking for. This leads to better accuracy of search results and automated mapping as opposed to a manual mapping of incorrect queries to the right search results.
11. Partial Matches & No Results Recommendations
14% of visitors who search are likely to leave due to "no results." When a user searches something that is not a part of your product inventory, you can instead showcase similar products, increasing the probability of purchase and improving conversions.
If someone is looking for a blue wall frame, instead of showing "no results," it's a good idea to display any wall frames you stock. This helps them discover other products and prevents them from exiting the website.
Avoid this:
Aim for this:
12. Search Results Merchandising
The first few search results are a deciding factor on whether a user will interact or make a purchase from your eCommerce platform. With search results merchandising, you can choose what is shown on top.
You can follow trends, tailor search results to align with your marketing and merchandising strategies, and highlight the best products you have. Users spend more time on your website, thereby boosting customer satisfaction.
13. Search Results Personalization
Everyone loves it when something is personalized or done specially for them. Personalization in search results also goes a long way in making your customers happy by improving customer experience.
You can get better engagement, save the visitor's time, equip your platform with a competitive advantage, reduce customer acquisition costs, and increase the probability of a conversion.  Happy customers = returning customers.
Get Tagalys's eCommerce Search Tools Now!
Tagalys maximizes conversion rate and gives merchants visual control of products displayed in Site Search, Category or Product Listing pages, and Product Recommendations for their online store. To know more about our solutions and features, get in touch with us now.
You can use it for Magento, Shopify, and BigCommerce eCommerce platforms to have complete control over what your visitors see. Powered with data insights, Tagalys can help you utilize your maximum potential. Do all of this and more using our eCommerce search tool! Schedule a demo today!
References:
Images:
http://brainsins.com/en/blog/ai-powered-semantic-search-increase-ecommerce-conversion/4526&sa=D&ust=1595590611884000&usg=AOvVaw2VQk_uEoH0JejNsQjvot7N