Everyday online stores with great site search experience
Today's online shopper has hardly any patience when it comes to finding the right product online. This, added to the fact that there are numerous online stores available as options, makes it extremely crucial for eCommerce sites to leverage every tactic in simplifying the user's purchase journey – from intent to purchase.
The right (and most impactful) place to start is by optimizing the most potential feature on any online store – the search bar.
Most shoppers who visit an online retail store go directly to the search bar to find exactly what they are looking for. Consumers who use the search bar to discover a particular product are 2.4 times more likely to buy it than those who use other discovery channels.
These stats clearly indicate the importance of having a highly effective, intelligent, and user-friendly eCommerce search engine.
We analyzed some popular eCommerce stores to explore what they are doing right when it comes to their search functionality.
Forever New:
Forever New is an eCommerce store for women's apparel and accessories. Their search engine has some interesting features that improve the user experience:
#1 Text and visual product suggestions
The site has a very effective search bar that gives a quick snapshot of products and their price when a search term is entered, making it easy for users by giving them a preview of what to expect.
The search bar also displays recommendations relevant to your search. For example, if you enter 'Tops' in the search bar, it provides suggestions such as 'White Top,' 'Black Top,' 'Full Sleeve Top,' etc.
#2 Product count within filter tags
It can be frustrating for a customer to go through a page and exploring a product – only to find there aren't enough products available in their size or their choice of color to choose from.
The Forever New search result page has a product count next to each filter label that indicates the availability of that product.
By using product count within filter tags, they allow users to get more information without adding additional steps to their journey.
Red Candy
Red Candy is a gifting, home decor, and accessories store. They make great use of their site search functionality to make the shopping experience seamless.
#1 Trending/Popular Searches
Simply clicking on their search bar displays a drop-down that shows popular and trending search terms.
Trending and popular products are generated based on past customer interactions, and there is a large probability that a new customer would also be interested in similar products. This gives them a chance to promote products without diverting the user from their goal of searching.
#2 Search term Synonyms
Red Candy's search tool caters to synonyms. For e.g., if your search term is 'bunny', the search result also includes products with the word 'rabbit'.
Incorporating synonyms into their search tool helps users find the desired product with fewer iterations.
#3 Filters with a visual appeal
The site has a panel of powerful filters with attractive designs that grab attention and also help users refine their search to quickly find exactly what they are looking for.
#4 No Results Recommendations 
In case the store does not have what the customer is looking for, the search results page displays a notification and a set of recommended products rather than just the notification. This keeps the visitor engaged and could lead to a cross-sell.
Johnny Bigg
An e-commerce website for men's apparel with a compelling and unique search bar.
#1 Search Bar Placement
The search bar is placed at the top-center of the landing page, making it very easy to locate.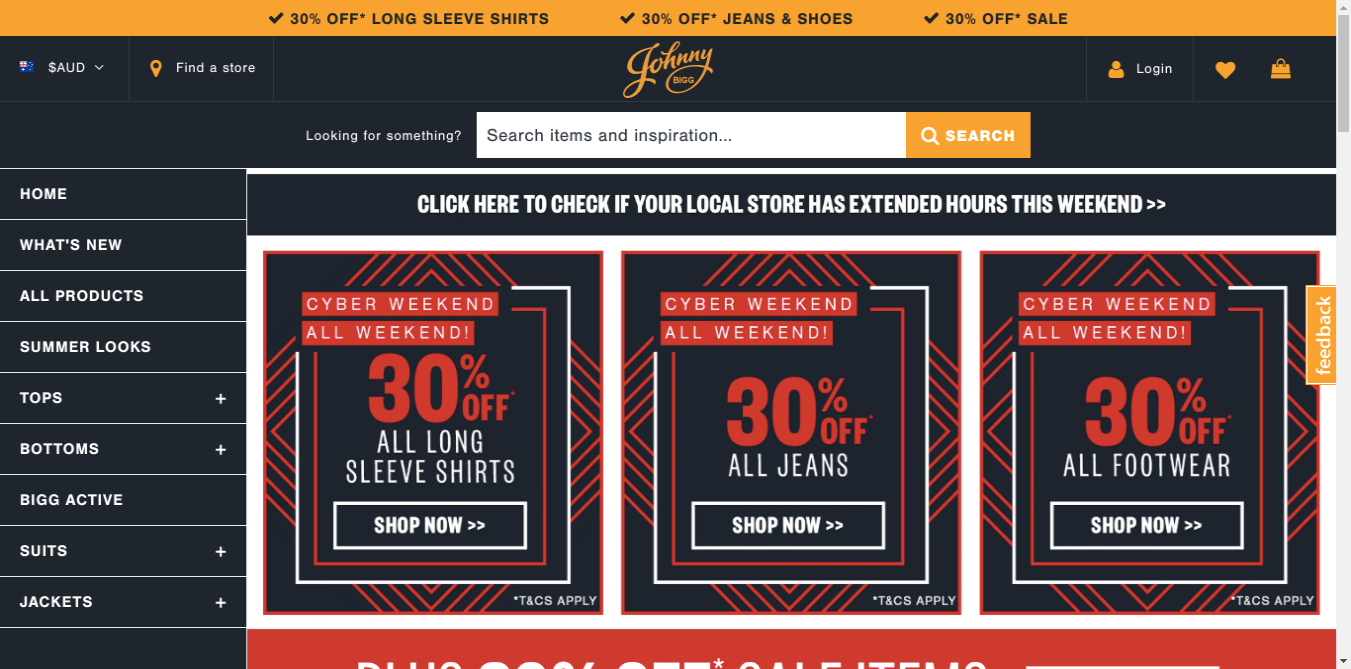 The search bar on this site is big, prominently placed, and has the label "Looking for something?" next to the search box and also has a unique placeholder within it: "Search items and inspiration." This form of direct messaging creates a personalized experience for the customer.
#2 Recent Searches
On clicking the search box, a drop-down of recent searches shows up, giving visitors a view of the shopper's search history without adding clicks or scrolls to their journey.
#3 Category Suggestions
The category suggestions on their search box make it very easy for a customer to go straight to what they are looking for. They also have subcategories to help refine the user's search.
Petal and Pup
Petal and Pup is an eCommerce store for women's apparel. They incorporate small but detailed thumbnails that make the search for a product much easier.
#1 'Product Size' in thumbnails
The store displays available product sizes as thumbnails for each search result, which makes it easy for a customer to check if their size is available. This saves users valuable time and reduces clicks, improving UX (user experience).
#2 What's hot, what's not
The search results are sorted 'Trending / Popularity' by default which is optimized for conversion. Other sort options are price: low to highest, date: newest to oldest, etc.
Roolee
Roolee is a popular women's clothing brand. Here are some UX (user experience) boosting search features on their site:
#1 Search Suggestions on Mobile devices
Roolee has a mobile-friendly store experience; The search bar drops down with 'trending' products and suggestions even before a customer has entered their search term. This is a great prompt that gives them a chance to explore the most popular products.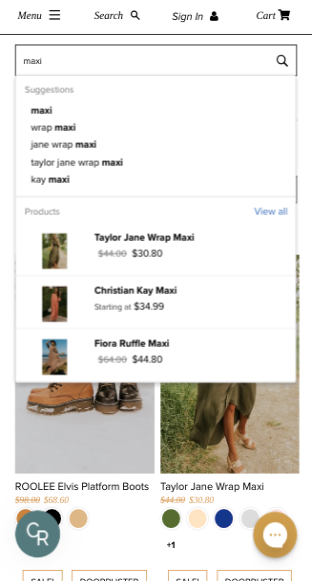 #2 Labels on search results (sale, bestseller, etc.)
Who does not want a product on sale or a best seller in their collection? Roolee makes it easy for visitors to know what products are on sale or are popular by adding a tag next to the result.
How Your Store Can Deliver a Similar Experience
These features are incredible because they improve user experience, which in turn increases CTR and sales. Implementing these, however, can be challenging.
Tagalys is a sleek solution that integrates right into your online store, giving you the tools to implement the search features used by the 5 stores in this article and more. Schedule a free demo here!