Easy enhancements for better Search CTR & higher conversions for eCommerce stores
Today, there are more than 20 million eCommerce websites in the world! The eCommerce market has seen a boom amidst the COVID-19 pandemic, and the eCommerce sales are expected to touch USD 6542 billion by 2023!
With such heavy competition, how do you keep up? How do you stand out? Having a well-designed website, product catalog, a secure payment getaway, etc. is not enough to succeed. You need a high eCommerce CTR and conversion rate. These simple eCommerce enhancements will help you stand out and succeed.
What is Click-Through Rate & How It Affects Conversions?
The Click-Through Rate (CTR) is the number of times people click on your website's link in comparison to the number of times it appears in search results on the Search Engine Results Page (SERP).
A high eCommerce CTR indicates good online traffic and gives you a lower Cost Per Click (CPC). A percentage of this online traffic then actually makes a purchase from your website.
How do you entice potential customers to click on your eCommerce website's URL? We tell you.
How to Improve Your Click-Through Rate?
1. Attractive Titling
The title is the first thing that your potential customers look at. It should be able to create a connection with the customers. Avoid stuffing too many keywords in your title, as this does more harm than good.
The title should be attractive and creative but simple. Don't add too many unnecessary words. Keep it as real as you can. Your customers are smart, and they don't trust a website that goes overboard in making promises.
You can also use statistics or any numbers in your title. For example, the title can say, "10000 customers love our products!". Lastly, never plagiarize. Make sure your title is original and unlike your competitors' titles.
2. Smart & Descriptive URLs
Don't forget the URL. Your customer can read what's written in it, and it plays a major role in boosting your eCommerce conversions. Use SEO tools to customize your URL.
The URL should be SEO-friendly and not too long — keep it to five words at the max, so it is easy to read. Avoid the use of punctuation as far as possible. If you are promoting a page that showcases black dresses, your URL shouldn't say "black-dresses-by-xyzcompany-type-black-category-dresses" or something like that. It should simply read as "best-black-dresses."
3. Enticing Meta Descriptions
The meta descriptions are the most important part of SEO that helps in achieving a better eCommerce CTR. These descriptions are like a teaser to what the customer can expect and are located right below the title in the search results.
They should be simple to understand and must highlight the USPs, offering a value proposition. What does the user stand to gain by clicking the link? The meta description should answer that as briefly as possible.
4. Use of Google's Rich Snippets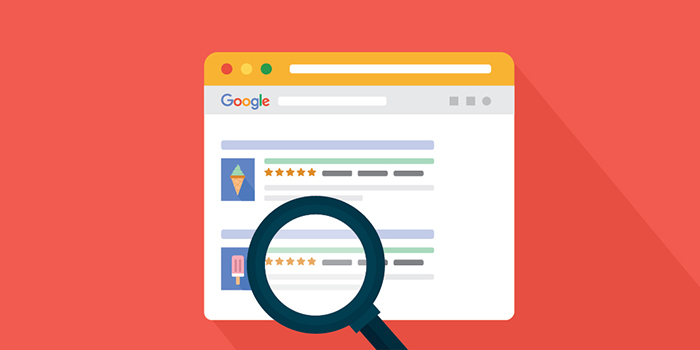 Google's snippets are the best way to inspire trust through reviews and ratings that are given by your customers. Show them off. Not only do they look attractive, but also add credibility to your eCommerce store.
People are more likely to buy from an eCommerce website with high ratings. This is why the snippets are essential to get better eCommerce conversions. It works much like online word-of-mouth.
5. Add Clear Call to Actions
All is said and done, but then what do you want the user to do? Include a Call To Action (CTA) at the end of your meta description and your meta title. This should be very short and crisp, like the examples displayed in the picture above. Tell the user exactly what you want from them. It works!
Brace For Success
Now that you have managed to boost your eCommerce CTR, your work is not done yet. Once a potential customer clicks on the website, a lot of factors come into play to get a high eCommerce conversion rate.
You must use different strategies such as visual merchandising, smart search (display of relevant trending products), product recommendations, personalization, etc. Sounds overwhelming? Don't worry; you can do all of that and more with Tagalys's solutions, powered by human + machine intelligence.
Our solutions for product listings, site search, and product recommendations will give you an edge over others. Request a demo with Tagalys now and rise above the competition.
References:
https://www.tagalys.com/blog/click-through-rate-for-ecommerce-stores
https://www.freepik.com/free-vector/pack-colored-contact-buttons-flat-design_1063273.htm#page=1&query=call%20us%20now&position=0
https://www.statista.com/statistics/379046/worldwide-retail-e-commerce-sales/
https://kommandotech.com/statistics/how-many-ecommerce-sites-are-there/